"The challenge facing anyone rash enough to write a book about the crime genre as a whole is how to integrate a mass of disparate material into something vaguely coherent." Martin Edwards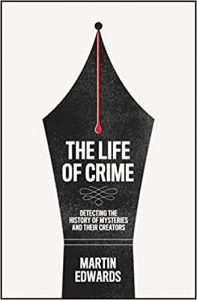 50 years ago Julian Symons produced 'Bloody Murder – from the Detective Story to the Crime Novel'. There was instant critical acclaim for his achievement – the first serious overview of the crime fiction genre since Howard Haycraft's 1941 'Murder for Pleasure – The Life and Times of the Detective Story'. Prior to Haycraft the only attempt of any note had been the underrated 'Masters of Mystery' by H. Douglas Thomson. Neither Haycraft nor Thomson produced further editions of their books, but such was Symons success that Bloody Murder ran to three editions. I bought all three, and while I didn't agree with everything he said, I agreed with most of it and above all enjoyed his critical mind at work on the books I had grown to love.
After Symons, the deluge – there have been many academic studies of detective fiction, many 'best of' guides and many books on individual novelists, some thematic studies. Often these have been fairly limited in scope, and, it has to be said, in quality.
There have also been a few encyclopaedic volumes which have tried to encompass the whole genre, notably from Barzun and Otto Penzler – perhaps the best of them, in my opinion, is John M. Reilly's Twentieth Century Crime and Mystery Writers which also achieved the magic three editions, the last of them in 1991. Reilly chose good contributors (Bill Pronzini, Reginald Hill, Norman Donaldson, Patricia Craig etc.) to produce articles on the majority of the higher quality authors, and any omissions (or unjustified inclusions in some cases) were rectified in the subsequent editions. Sadly the venture ended with Reilly 3.
For all the quality of Reilly it was a reference work first and foremost – I remember frequently turning to it for the bibliographies. It was also, despite the quality of its editorial standards, a little uneven, with the length of the articles not necessarily being weighted to the quality of the authors. Not surprising given the number of article contributors and the number of authors included.
However there were no serious attempts to follow Symons lead in writing a singled authored history of crime and detective fiction. I think that Symons cleared the decks in the sense that his work was so strong that it was a daunting task to emulate or surpass it for quality. Add to that the outpouring of genre fiction in the period 1972-2022 so that the sheer volume to be considered would seem to be beyond anyone.
Anyone but Martin Edwards that is. Perhaps the only person who has the breadth of reading, the literary skills, the forensic mind and the author's informed and critical viewpoint to tackle the task. The right stuff but even then, the commitment in terms of time must have been prodigious. Running to 250,000 words it is a massive work, and an impressive one.
————————————————–
Firstly what it is not: It is not a 'best of' or an encyclopaedia, though its scope is not far short of encyclopaedic and on my first read I can't spot any of what I would consider the best authors or books which are omitted.
It is also not a straightforward 'history' of detective fiction. It takes a thematic approach – looking at both the development of fiction with crime as its central element, from historical roots, and the main themes and classes of fiction on the subject of crime. It also looks at the mechanics, the tricks of the trade and the specialist sub-genres. Yes, there is a chapter on locked rooms!
Lastly it is not a partisan work. One of the virtues of Symons' book was it was enjoyable to have one's prejudices confirmed. When I read Bloody Murder in 1972 or 3 I was firmly in the inverted snobbery phase of my life, and Sayers, Allingham, Bailey and Vance, with their somewhat superior detectives rubbed me up the wrong way. I found an ally in Symons. However that virtue was also a vice, in that he paid scant attention to authors whom he had categorised as 'humdrums' or 'snobbish' or just simply not to his taste. Edwards has been far fairer in A Life of Crime. While willing to make judgements, for example on the declining quality of some author's later works, he is less acerbic and more inclusive than Symons. This is more truly a history and a less subjective work. It also means, of course its more comprehensive and bigger, much bigger!.
Edwards marshals his subject matter around both the historical development and the 'family tree' of crime writing – so there are very good early chapters on the precursors such as Godwin, Poe and Collins, and he is particularly strong on the French early masters like Vidocq and Gaboriau. To some extent these early chapters, while longer and more in depth than their counterparts in Bloody Murder, follow the timeline approach as Symons did.
From the point we come to the flowering of the Golden Age there is a divergence of approach. Edwards takes themes and examines them, and arranges his study of the pertinent authors accordingly. This is an attractive approach and allows him to study elements only touched on in Symons – for example in a chapter headed A Carnival of Crime: Mystery and the Macabre he is able to link Frederic Brown , William Gresham and Bill Ballinger back to their connections with Clayton Rawson and Carr and their fondness for the surreal and magical. Likewise in Whose Body?: Whowasdunins: mysteries about the victim's identity he provides an in depth background to the impact prosecution and imprisonment for gross indecency (in relation to homosexual acts) had on Rupert Croft Cooke (who wrote detective novels as Leo Bruce). Edwards uses this as a starting point for a chapter which focusses on detective stories with the theme of mysterious identity. In doing so he looks back to works by Millward Kennedy, Anthony Berkeley and others, and forward to reviews of works by Mary Kelly, Stanley Ellin, Julian Symons and others finishing with Lucey Foley and Mark Lawson.
A chapter which shows this interweaving of authors and themes well is A Suitable Job for a Woman: Women writing about private investigators which cleverly starts with a description of Sue Grafton's creation of Kinsey Millhone then works back to P.D James novel from ten years before, comparing and contrasting the way those very different authors use the woman private detective apparatus. He analyses the novels of Paretsky, Muller, Cody, Evanovich, Cornwell, Reichs, Vargas and Atkinson. In analysing them he refers back to Sayers and Tennyson Jesse, drawing the threads of the different eras together around the themes.
This thematic approach makes many of the 55 chapters in effect a stand alone essay on a subject, and I can see myself happily reading one a week for the next year.
It also has the effect that the more important authors are featured in more than one chapter due to the breadth of their subject matter or their versatility of approach. Only a select few authors, outside of the earlier historical sections, have chapters to themselves or shared with one or two others. I was delighted to see Christie (who has suffered fainter praise than she deserved in most previous histories) leads a chapter from the heading, as do the deserving Hammett, James and Highsmith, for example.
There are many delights for the connoisseur of crime fiction, and I have only skimmed the surface in this review. I look forward to a winter of content reading through it in detail, and I am sure making notes of books to be purchased , and books to be reread with a fresh look. Amongst the personal delights I will mention is the reputational restoration of Henry Wade, shamefully ignored in the earlier general works cited, who is given his due credit in two chapters. His books are so difficult to find in book form (though recently republished they are mostly only available on kindle) that many will have read only one or two – perhaps Edwards' championing of them will produce stronger interest.
A second delight for me is that this book is published under the Crime Club imprint. There is something ineluctably appropriate and reassuring about seeing the hooded gunman return to the title page….
The final (55th!) chapter of this monumental work is
A Taste for Death: P. D. James and the truth about human character and experience
and as the title suggests PD James appears again, this time as the fulcrum of the chapter. Edwards shows how her life experiences influenced her writing. He analyses her books showing how they were rooted in her experience, direct or observed. He then scopes out her views on writing, crime fiction and how it might develop in the future – I was particularly struck by the quote from James that crime stories will continue to supply readers with 'that central certainty that even the most intractable problems will in the end be subject to reason' .
This is then subtly woven into a chorus of the thoughts of some of the great modern crime writers about the future of the crime stories. It is an elegiac ending, leaving the quotes to echo in the readers mind. And, typically of Edwards, he does not reserve the last word for himself but for another great British crime writer.
No detective or crime fiction aficionado should be without a copy of this fine and important book on their shelf.